The year is half over and I just checked another item off my 2019 SUP Wish List – SUP Yoga Teacher Training! I've wanted to merge my love of SUP and yoga for a while and now I can share both in one class. I'm so excited to start teaching and take my yoga skills to the water. I chose Paddle into Fitness for my training and I'm so glad I did. My instructor, Audrey Lee, was not only beyond qualified and awesome, she knows some of my fellow Chicago paddlers! It really is a small world and nice to find connections with people, which brings me to the other great part of my training – networking with others that love SUP and yoga. I met so many passionate and inspiring people!
Paddle into Fitness offers a two day accelerated format for SUP yoga teacher training. I was considering Toronto and San Diego for my training, but chose Toronto because it's a city I've wanted to visit for a long time. I never thought of Toronto as a great SUP destination, but thanks to Instagram posts, I quickly learned I was wrong! I built in a few extra days to paddle the Toronto Islands and it lived up to all the hype. My training was located on Kew Beach with WSUP Toronto providing the gear. They were awesome so check them out if you want to paddle in The Beaches area of Toronto. One of my fellow students will be teaching SUP yoga there, as well!
The two day training was full of paddling, technique instruction, networking, yoga, and general fun. The weather was not as cooperative as we would have liked, but that comes with being in nature. You literally have to "go with the flow" with SUP yoga. Connecting with nature, becoming one with the water, and being forced to focus on your practice is the beauty of SUP yoga. Accept the conditions and make the best of it – which is exactly what we did.
Day 1
The first day was all about paddle boarding – history, equipment, laws & safety, emergency rescues, and how to instruct a beginner SUP lesson. The weather, although sunny, was very windy and not ideal for paddle boarding. We saw several kite surfers at one end of the beach, which is never a good sign for SUP! We were determined and got out on the water, anyway. We practiced correct stroke technique along with basic and advanced turns. I love turning on my paddle board – especially the cross bow turn, so it was fun despite paddling through rough waters.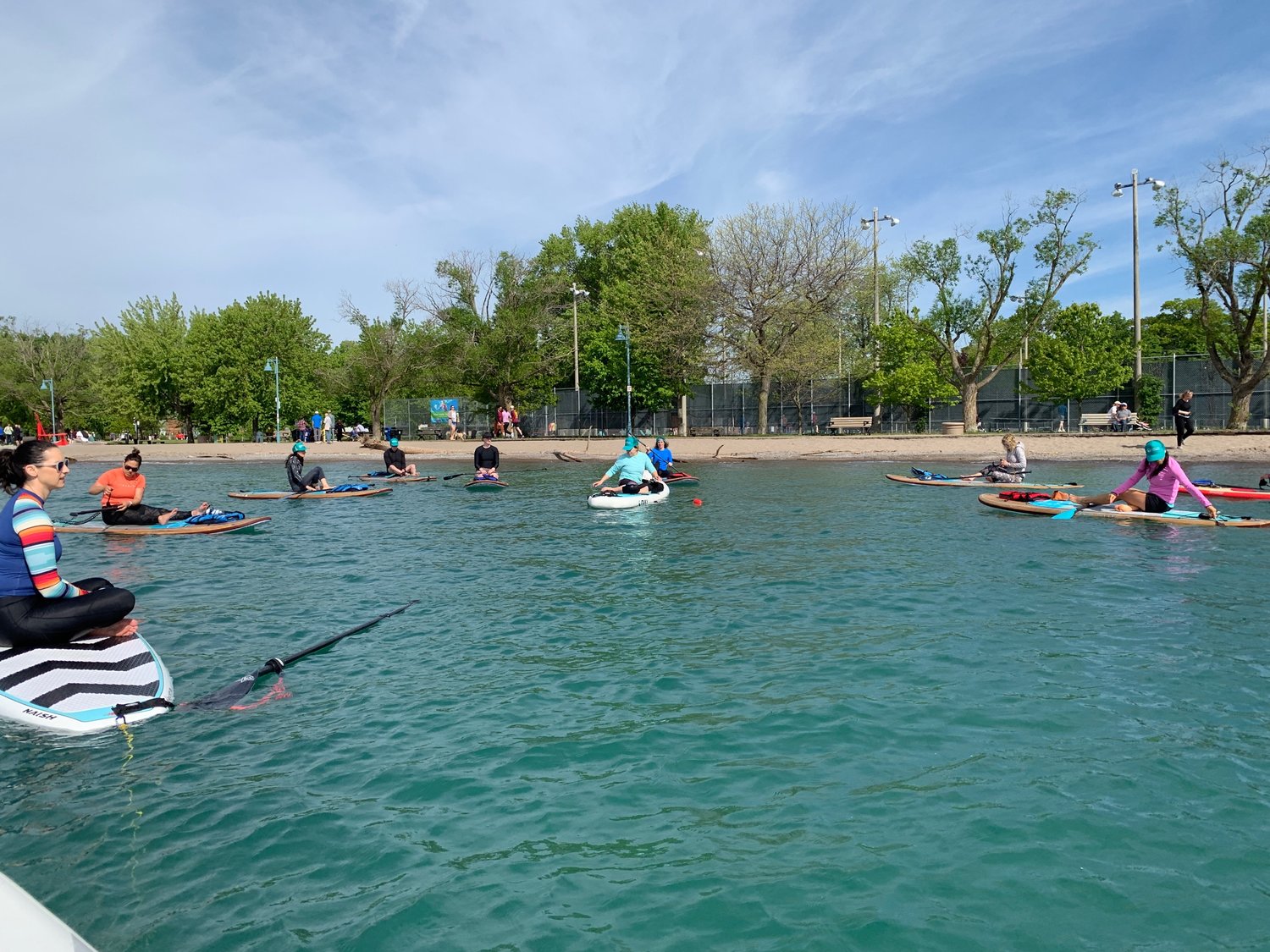 Getting ready to flow through the Gentle Wave sequence
We also learned how to teach a beginner SUP lesson, which I was pretty excited about because I get requests all the time! A beginner lesson consists of 6 parts – introduction, explanation of equipment, water safety review, how to launch, basic stroke technique, and turning instruction. We all taught one part of the lesson to each other and everyone did really great! Most everyone had significant paddle boarding experience and were very comfortable explaining the details.
The most intriguing part of day one for me was water safety and rescue. We discussed how to save a conscious and unconscious person. The key to saving a conscious person is to remain calm and rescue safely – meaning don't put yourself in a dangerous situation that results in both of you going down! We discussed calming the person being rescued and clearly communicating a plan before saving them including getting them safely on your board. The unconscious rescue was the most interesting. We had access to a pool for the water rescue and took turns demonstrating how to pull an unconscious person onto our board and then flip the board to get them on top! This seemed impossible to me when watching the video, but we all got in the cold water and did it! Granted, our instructor was the person needing rescue and she's tiny. We were also using a small board that was easy to flip, but we were in deep water, so it was still challenging!
At the end of the day, we took the World Paddle Association (WPA) quiz and became certified as Level 1 SUP instructors. It was a long, full day, but very informative and fun!
Day 2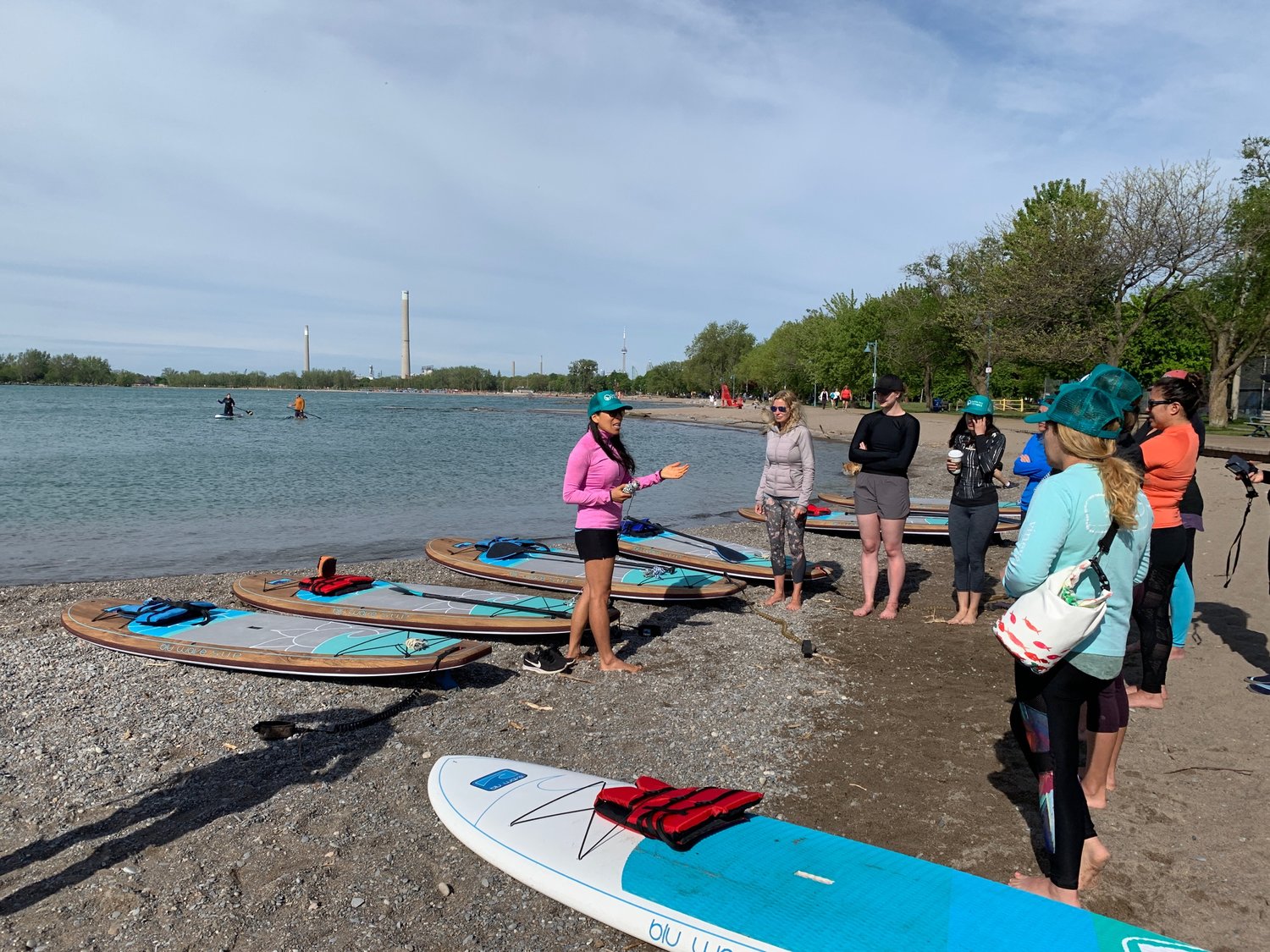 The second day was all about yoga – yay! Most everyone in class was an RYT-200 trained yoga instructor, but yoga on a paddle board requires unique instruction. The paddle board creates an unstable base unlike the predictability of a mat on land, so focus and alignment are important. Difficult poses are modified for SUP yoga and the paddle board rails (the sides) are used to deepen stretches or stabilize poses by hooking your foot around the side. You can even use your paddle to deepen stretches. We learned two different sequences – Gentle Wave (beginner) and Nautical Wave (intermediate/advanced). We all had a chance to teach to each other and practice our flows on the water.
The conditions for day two were about the same – windy and wavy – with even more kite surfers on the water! Not ideal conditions for SUP yoga, but we went out anyway. For this training, we all had individual anchors for our boards. Anchoring is essential for SUP yoga to help keep the board from floating away from the class. It was a little challenging anchoring in the wavy conditions, but we managed! We paddled out, anchored, practiced our yoga, and paddled back in. We also reviewed the sequences on land and shared experiences with each other. It was nice to re-group and talk about how we felt on the water and what challenges we encountered or think we might come across while teaching.
At the end of the day, we reviewed the day, took the Paddle into Fitness SUP yoga quiz and received our certification! I really enjoyed this training and learned so much from our instructor and the other students in class! It was invaluable to network with these impressive SUP enthusiasts and I look forward to supporting each other in the future. Paddle into Fitness really tries to create a community to help all the instructors succeed. I can't wait to start teaching on Lake Michigan this summer with Chicago SUP – come join me on the water!
Here are some more photos from the training!